You Are Getting Verrrrry Sleepy
I hate watching Bartolo Colon pitch. He kills me with his slow pace. I've got a life to lead, here, Charlie. Let's get on with it. He's got 16 (including last night) freaking wins this year and I swear it's because he beats batters down with his slow-as-snails strategy. I imagine waiting for one of his pitches to be like watching the elevator numbers light up - ever so slowly - as your floor approaches. And then stop for long periods in between.
It was good to see Orlando, once again, even though he "fell down went boom" with a big swing on the 3rd or 4th pitch of one of his at-bats. He made up for this when he reached 3rd (after stealing 2nd) on Mirabelli's weird throw to 2nd and Edgar's inability to field it. Should have left well enough alone, Dougie Fresh. Well, he was driven home anyway, but still.
Millar's new approach, instead of tweaking or adjusting his stance (by now, I imagine he's tried every damn stance known to man, including the Buffalo Stance), is to try "not thinking about it." I guess this was the reason behind his RBI last night. Oh, and he got a new helmet and Trot threw some pine tar on it before the game. Thanks, Uncle Trot!
Wake's MRI came back nega-toid for breaks, which is good news. He's got a deep contusion, but he should be alright. *big sigh of relief*
So, tonight, we face Chris Knight, or Peter Brady (the grown up Peter):
ERA: 3.63
Record: 10-4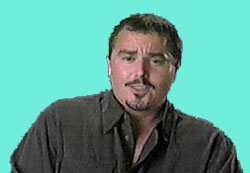 ERA: Mid-late 70's
Record: "It's Time to Change" (Most notable because he was the inspiration behind the song.)
Once again, I'll be away for the weekend. Which is why I am working right now. For the weekend.
Enjoy the night games, kiddies. I'll be back on Monday.